Animal lovers all around as well as animal rights activists are well aware how poorly some animals are treated by large companies that want to test out products before labeling them safe for humans.
Countless innocent animals have been injured and subjected to horrible conditions just so brands can have some easy test subjects.
Thankfully, with the rise in cruelty-free beauty brands, it is becoming much easier for all animal lovers to purchase high quality non toxic beauty products from brands that don't test on animals.
It's a small step we can all take to support our furry friends! New to cruelty-free brands?
Check out some of our favorites below!
The Price of Beauty
Beauty may always come with a price, but purchasing an item that promises good results should never harm an animal just to acquire the effect a user requires.
There are several companies that claim that they are cruelty free cosmetics. A cruelty free cosmetic company ensures that no single animal has been harmed during the process of making any of their products.
A lot of individuals, especially those who value the importance of their four-legged friends, would prefer to purchase cruelty free cosmetics as they cannot bear the fact that what enhances their beauty has harmed a living thing.
For cosmetics, an animal's skin is shaved and the product will be applied to that area for 28 to 30 days. The area will then be assessed if any allergic reaction occurs. After the process, the animal will then be destroyed so as to check if it has any negative results on its internal organ.
Any adverse effect will be recorded and the product will not be out of the market as users may also get to experience the same effect once they have used it. Other morbidly cruel tests are done on the animals as well while they are alive and able to feel the affects.
Now we all know that animals feel pain just as much as we do and it is absolutely unnecessary why they should have to suffer for this.
A cruelty free cosmetic may not automatically mean that it is vegan. A vegan does not incorporate any animal ingredients in the product whatsoever.
Some companies still add ingredients that may only be acquired from animals. Thus, if you really want something that never been tested on an animal then you must thoroughly check the product ingredients.
How will you be able to confirm the legitimacy of a company that promises cruelty free cosmetics?
We maintain a full list of companies that are cruelty free as well as vegan.
Top Ten Cruelty FREE Beauty Products
If you want to see if your favorite beauty or makeup product does NOT test on animals check them out on this list. 
Now onto the top ten!
Pioneering sustainable beauty through biotechnology, at Biossance they have a 100% plant-based squalane skincare line that is incredibly effective.
Melissa and Nick (aka a wife-and-hubby team), are the founders of Cannabliss Organic. Their firmly grounded roots in the beauty industry and past experience in hemp wellness and cultivation makes this the perfect match.
They created a lifestyle, beauty products, organic skincare brand that combined these two loves. Their hope is to remove the stigma of cannabis and encourage all to incorporate CBD into their daily routine.
Their skincare products are made with a high concentration of full spectrum hemp oil that is specially blended with ancient Korean herbs to work in synergy with the body and to nurture and heal.
Skincare is an organic, oil-based skincare collection. Each product is hand-batched in the United States using only natural ingredients. Kindred Skincare is an organic, oil-based skincare collection. Each product is hand-batched in the United States using only natural ingredients.
Kopari is unnaturally obsessed with all things au naturel. They're passionate about products that make you look gorgeous with ingredients that make you feel great. Vegan, paraben free, sulfate free, Phthalate free, cruelty free.
Start a beauty blog today!
#5: E.L.F. Cosmetics
Not only are these cosmetics available everywhere from CVS to Ulta but this reliable brand is cruelty-free as well as affordable, making it a great choice all around.
NYX products can be easily found at your local Walmart, Target, or drugstore. They have products all targeted for different skin types and needs. The products aren't tested on animals and they use the PETA logo!
Has become a cult skin care favorite. Made in small batches on beautiful St. Simons Island, GA. Their plant based formulas are designed to nourish and balance all skin types—so they're perfect for everyone.
No animal testing.) Leaping Bunny–certified; Non-GMO; Gluten free; Vegan* True Botanicals always use the highest quality ingredients available. We prioritize both certified-organic ingredients and wild-harvested ingredients, meaning they're grown in their natural environment.
Vapour takes a bold approach to crafting high-performance cosmetics includes only the purest, active ingredients from the earth—and nothing else. Their high-performance formulas blend exceptionally pure organic ingredients with Fine Art Infused Color.
Award-winning and cult-worthy, Vapour has a global following among beauty insiders.With the highest purity standards and an unwavering commitment to both sustainability and performance, Vapour is actively reinventing beauty.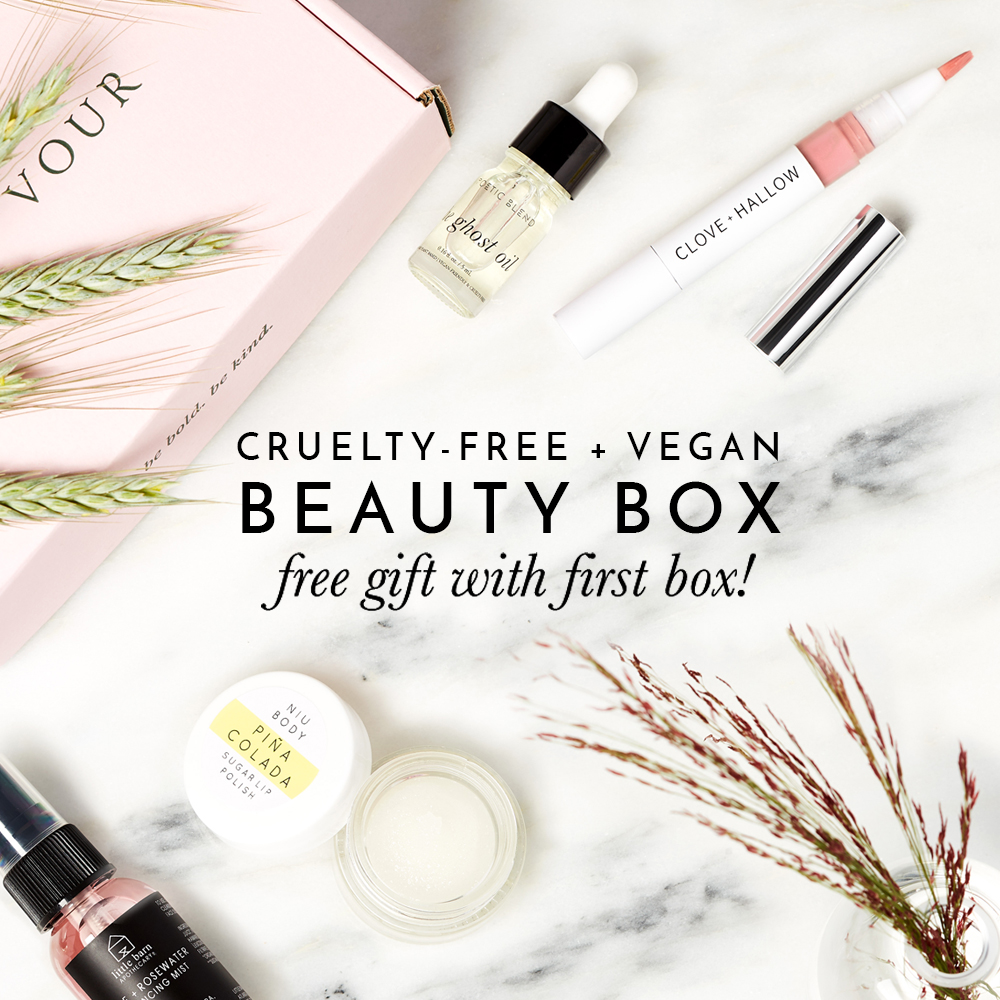 Conclusion
It's easy today to shop for products that don't harm animals in any way and have your favorite beauty products that last and do everything you need them do. Let us know what some of your favorites are! 🙂
Get the Ultimate Cruelty-Free Brand List HERE!