Despite the Covid pandemic weddings are still operating at full or reduced capacity it seems everywhere. With precautionary measures taking place it's possible to celebrate as though there isn't an ongoing health crisis. Weddings are an ongoing event that require some makeup must-haves. For this Fall Season I dug through some picks from The Knot and found all the cruelty-free gems. Look and feel your best (for a thousand reasons!) on your big day with these cruelty-free wedding makeup products!
If you're engaged and have set a date it's easy to have wedding on the brain almost constantly! The day will be sneaking up faster and faster, so it's a great time to try and get your skincare in check and start finding the best products for your wedding makeup bag. Thankfully, there are tons of quality cruelty-free wedding makeup options!
Cruelty-Free Wedding Makeup
One Step Prime – Stila
I don't know about you, but Stila's primers are what introduced me to the brand. It's no surprise their new One Step Prime is a pick for the best wedding makeup. This formula fills in fine lines and pores, giving you a perfectly-smooth canvas to apply your base.
Cream Porcelain Foundation – Kjaer Weis
This creamy foundation provides buildable yet natural coverage: the perfect combo for your foundation the day-of. And it's packed full of healthy oils like jojoba and sweet almond oil, making it a no-brainer choice for those of us that also love good skincare.
Bye Bye Under Eye – IT Cosmetics
This high-coverage, waterproof concealer is a great pick for your wedding makeup. Bye Bye Under Eyes erases any signs of fatigue and the smooth, natural finish will make so no one can tell you've been staying up late perfecting every detail of the day.
Bye Bye Pores Pressed Powder – IT Cosmetics
Looking for that airbrushed finish look? Your search is over. The Bye Bye Pores pressed powder blurs any imperfections and keeps your t-zone shine free. Perfect for those outdoor weddings!
A Cruelty Free beauty subscription box makes the perfect gift!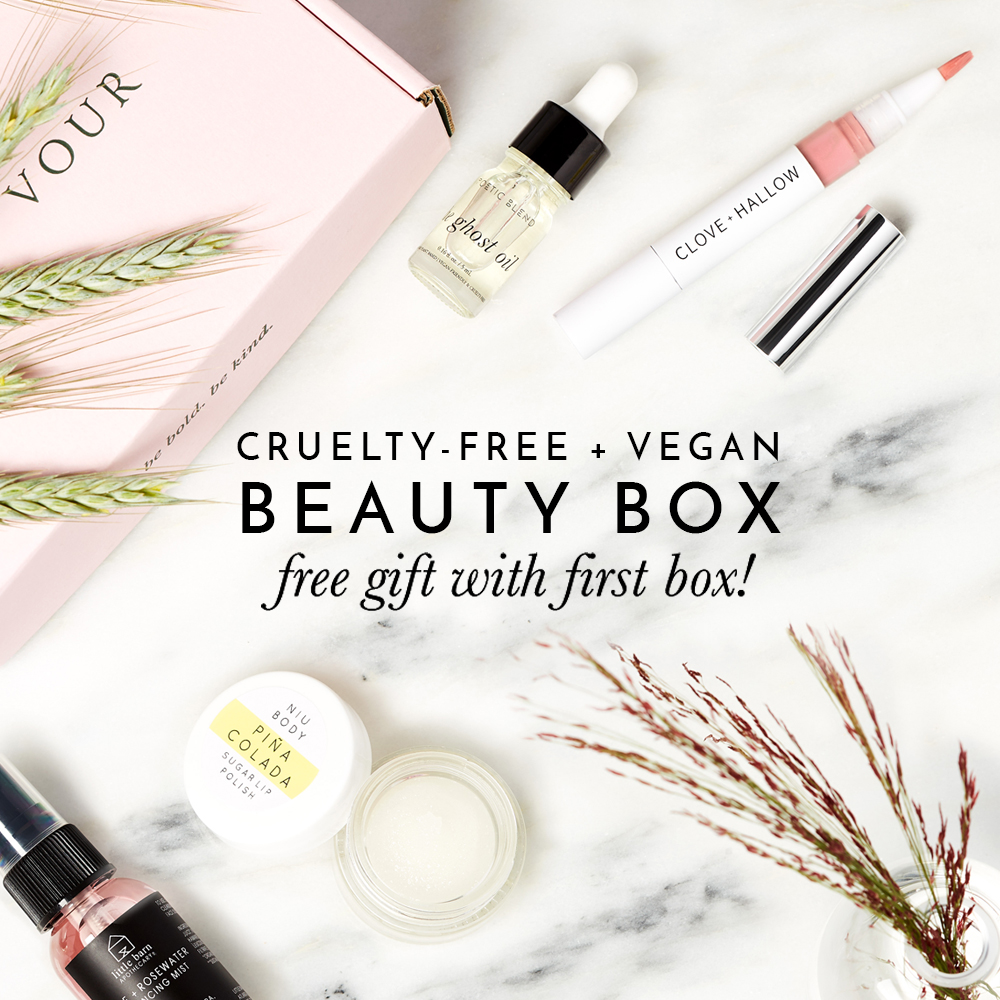 Shimmering Skin Perfector – Becca
It's no secret that mixing a couple drops of Becca's liquid Shimmering Skin Perfector into your foundation gives you a radiant finish. You'll already be glowing, but now you'll REALLY glow.
Matte Bronzer – Milk Makeup
Milk Makeups cream matte bronzer is the perfect kiss of sun your face needs. The cream matte formula leaves you looking natural and not at all cakey – something we definitely want to avoid in wedding photos!

Draw the Line Eyebrow Pencil – Pur Minerals
Smudge resistant is on the top of the list for wedding makeup requirements. Pur Minerals eyebrow pencil ensures your brows won't budge during your special day – after all, you're gonna be doing a lot of dancing and celebrating!
Luxury Palette – Charlotte Tilbury
The Dolce Vita quad will help you put together the perfect gold-toned neutral eye look. You'll be able to create the copper smokey eye of your dreams with this velvety and pigmented formula.
The Curling Mascara – Kevyn Aucoin
The Curling Mascara uses shrink wrap technology to completely coat your lashes, leaving them defined, lengthened, and curled.
Stay All Day Liquid Lip – Stila
Stilas liquid lip formula is a favorite for a reason: the comfort matte formula lasts for hours. This is another budge-proof product you'll want in your wedding makeup kit.
Full-On Lip Polish – Buxom
The Full-On Lip Polish isn't the #1 lip plumping gloss for no reason, okay… This high-shine polish is jam-packed full of vitamins A and E and hyaluronic acid, leaving your lips comfortably lush. Plus, there are toooons of colors. You shouldn't have a problem finding your perfect shade.
All Nighter Setting Spray – Urban Decay
Of course, you need a setting spray for your wedding makeup. And are we really surprised it's UDs All Nighter The cult favorite setting spray expertly sets your makeup and keeps it intact all night. I'll definitely be investing in a bottle of All Nighter for my wedding makeup bag!
Get the entire Ultimate Cruelty-Free Brand List HERE!
Related posts
How Gummy Vitamins Help Your Thinning Hair
10 Best Non Toxic Cruelty Free Beauty Products
10 Best Vegan Cruelty-Free Beauty Subscription Boxes
100 Black-Owned Cruelty-Free Beauty Brands To Support
Affordable, Best Cruelty-Free Shampoo, Hair Serums And Conditioners
8 Best Vegan, Cruelty-Free Deodorants That Work